Shop The Look: Bohemian Bedroom
September 2, 2020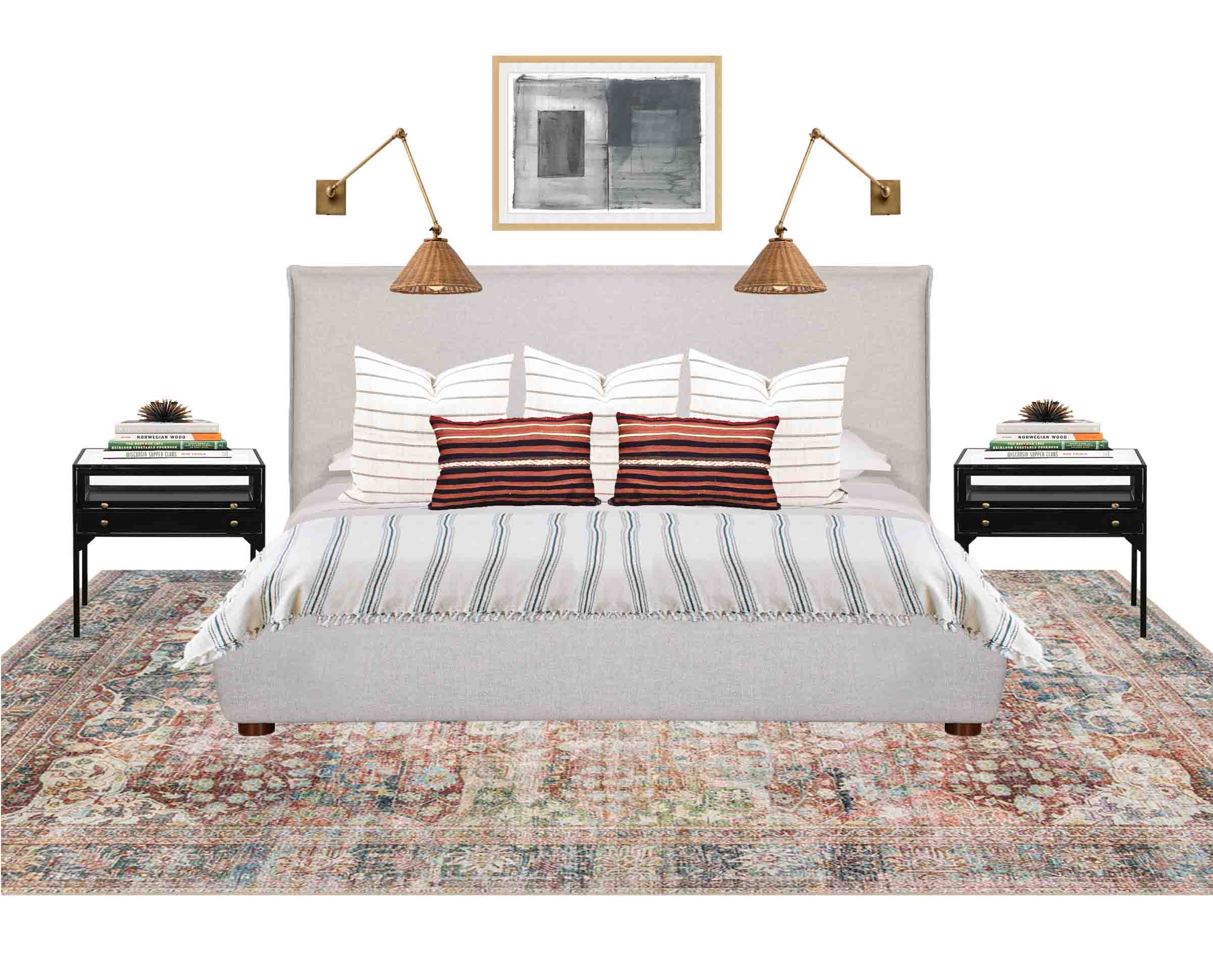 Bed   •  Sconce   •  Throw   •  Euro Pillow   •  Nightstand   •  Rug   •  Art
One of the things we love about "boho" is that it's such a versatile word.  It can conjure up a Parisian garret filled with watercolours, a downtown Manhattan flat complete with wine cabinet and exposed brick, or an Eastern European café frequented by writers and musicians.
Thanks to the diverse and vibrant images the word evokes, a true boho aesthetic can be achieved pretty much anywhere and can include an endless array of style and colour. The key is to be eclectic without being overwhelming.
STEP 1: START WITH A SOLID CENTREPIECE
Always a good idea to put the "bed" in "bedroom" before you do anything else. We suggest building your boho chic sleep-scape around a reliable bedframe that holds its own but plays well with other pieces. Here, we've designed our bedroom from the ground up with the sturdy and delightfully textured Luzon Bed (CI$1,792.00). We love how its pale grey upholstery is cosy rather than cold, and we think its impressive headboard works well as an eye-catching centrepiece.
STEP 2: SHED SOME ANTIQUE LIGHT
A word that never comes to mind when we think boho? "Harsh." This type of bedroom scene calls for lighting that evokes old-world comfort and casts soft shadows (no blindingly bright bulbs or sharply angled shades here). For our boho bedroom, we've spread the light evenly with two Padma Sconces (CI$705.00 each) on either side of the bed. These multi-media fixtures feature an antique brass finish and a woven wicker shade that lends a bit of rustic charm to the tableau.
STEP 3: DON'T JUST MAKE A STATEMENT, UNDERLINE IT
For this bit of boho chic we've taken things in a linear direction (you know, to satisfy the abstract artist in us). Lines adorn the classy Monte Viso Throw (CI$165.00) as well as the Niran Pillows (CI$119.00 each, cover only, see us in store for inserts) that rest on the Luzon bed, each representing a range of textures, from the silky soft to the pleasantly fibrous. The linear motif is even explored in the sleek structures of the Shadow Box End Tables (CI$587.00 each) to the left and right of the room.
STEP 4: BLEND SUBTLE WITH BOLD
And while we're on the subject of the end tables, let's talk about their striking ebony colour, which adds some contrast to the bedroom without drowning out the other pieces. With these accent end tables (and some added help from the bold stripes of the throw pillows – see us in store for options), the room achieves just the right amount intensity; anything extra would be overkill. Instead of piling on the powerful pigments, we've opted to balance out the look with the more subdued Loren Area Rug (we recommend an 8'4″ x 11'6″ for a king bed CI$830.00, and a 7'6″ x 9'6″ for a queen bed CI$463.00), featuring a fashionably faded printed design that adds a touch of Middle Eastern flair.
STEP 5: BE ORIGINAL
When all is said and done, boho is all about creating a living-scape that's 100% unique. What better way to express your originality than by choosing to enhance your bohemian bedroom with a work of art? Here, we've turned "Grey Glass" by Phil Lancaster (US$795.00) on its axis to provide a vertical contrast to the horizontal lines offered by the pillows below. The bohemian lifestyle has long been associated with artists who sing, play, sculpt, or paint, and we think an original piece is a great way to honour that tradition.
Get this Boho Bedroom for CI$6,523.00 (delivery not included).
Happy shopping!
With love from,
The HÜIS Team