Our Favorite Combos: Dining Room
January 15, 2019
The dining room can be a tricky space in a Cayman home. So many of our townhouse and apartment developments are built with open-plan living spaces to maximise sunlight and beautiful views but this also means that the dining table can easily become a dumping ground with little-to-no identity, or alternatively a way-too-formal space reserved for holidays and special occasions.
Your dining room (walls or no walls) can be a perfect space to take a few design risks and really make a statement in your home. And, in our humble opinion, why settle for a matching dining set when you can create your own unique and unexpected combination?
We pulled together some of our favorite mix-and-match pieces, all available to shop online here, to help get your creative juices rolling – plus some useful advice from our design experts at Lydia Uzzell Interior Design to ensure you and your guests are sitting pretty.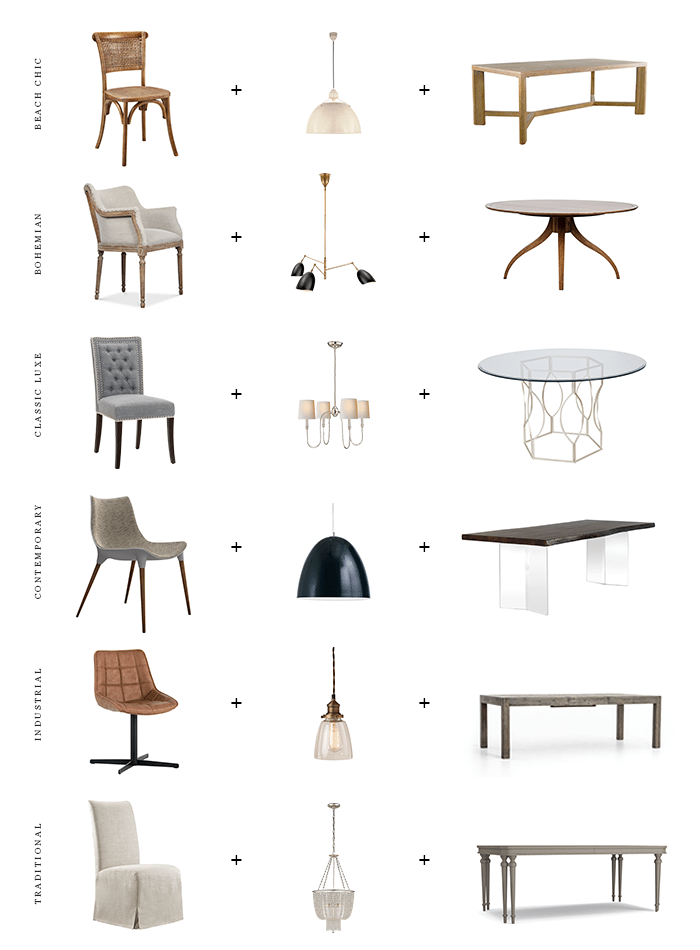 Beach Chic
This is a great example of a rustic set-up paired to perfection. The simple lines of this farmhouse-style weathered oak table (US$1,666.00) balance oh-so-beautifully with natural rattan seats (US$415.00 / set of 2) and an antique inspired hanging pendant (US$420.00 – $588.00, we suggest two) that would look great in an oceanside home.
Bohemian
This Danish-inspired pedestal table (US$2,136.00) makes the perfect accompaniment to bohemian French formal chairs (US$658.00) that have a bit of extra flourish and a curvaceous silhouette. The modern triple-arm chandelier (US$1,470.00) helps bring an edgy elegance into the room; it also comes in white but we love the black and brass finish!
Classic Luxe
When traditional style meets Hollywood retro glamour, it makes for a truly elegant combination. While this edit may not be entirely child-friendly, what with those inevitable spills and sticky little fingers, if you're living à deux or if your kids are older, then this glamorous set-up is sure to bring luxury into your place. Classical elements like the button tufted chair (US$658.00 / set of 2) and shaded chandelier (US$630.00) counterbalance the table's (US$1,283.00) intricate geometric base and glass top that is designed to impress.
Contemporary
Worn wood gives a rough edge to this acrylic base table (US$2,698.00) to create a serious statement. While the hanging pendant (US$330.00, we suggest two) and mid-century chair (US$799.00) are retro in shape, their materials are entirely contemporary: think stainless steel, Brazilian wood and fiberglass. Put this combo in a white room with lots of natural light to really let the floating-effect of the pièce de résistance table take full effect.
Industrial
Just because you're feeling rustic and industrial doesn't mean you can't also be a little fancy, right? Iconic leatherette chairs (US$322.00) lend gravitas to a simple Parsons table (US$1,115.00). Plus, the curved lines of the seats help to soften their worn leather-effect and the table's rough and tough reclaimed wood finishing. Here we'd incorporate a strong, industrial pendant light (US$143.00, we recommend three over a table this size) because it's just so damn cool!
Traditional
If your idea of a perfect meal consists of sipping rosé and snacking on charcuterie boards, then this provincial-style dining room combo might just be your match. The traditional farmhouse-style table (US$1,479.00) and 100% linen chairs (US$478.00) create a classic but comfortable style, with a touch of elegance thanks to a glass beaded chandelier (US$1,365.00, we'd do two of these). Plus, the dry-cleanable, removable slipcovers mean you can wine and dine without having to worry about staining your new purchase!
Happy shopping!
With love from,
The HÜIS Team
***Some of the fabulous pieces in this edit have been discontinued over time, but check out our slider above for similar options!  And of course please reach out to us – we'd love to help you with our complimentary sourcing service.***