Designs We Love: New Year, New Vignette
November 15, 2020
Happy 2021!!
We're so pleased to greet you all on the other side of 2020—and so thankful we all made it through. Here's hoping this new year brings some much-needed joy along with a definitive end to our global crisis.
For our part, we're pledging to double down on our mission to help friends and family find beauty, calm, and comfort within their four walls. And one of our biggest wishes for 2021 is to keep inspiring Caymanians through our favorite form of expression: design.
So, let's not waste time!
We're hitting a (very) firm reset button on a new year and kicking off 2021 with a brand-new, in-store living vignette: a transitional bedroom specially curated to encourage a sense of rejuvenation and renewal.
Here's how we did it: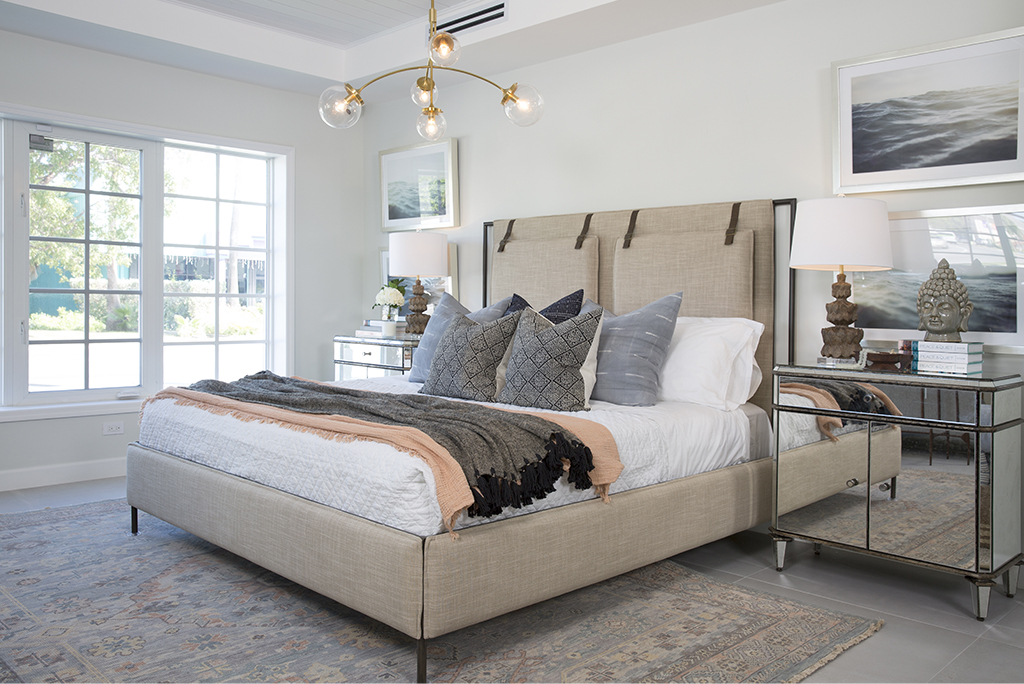 Rug   •  Bed   •  Nightstands   •  Lamps   •  Art   •  Pendant   •  Throw (top)   •  Throw (bottom)

First: We anchored the space using soft, nature-inspired hues.
Sometimes an area rug can seem like a period on the end of an elegant sentence––a last-minute addition that emphasises your design with grammatical flourish but doesn't do much to alter the feel of the room in general.
This was not one of those times.
For this vignette, we let the Cappadocia Rug (from $2,320.00) inform the entire aesthetic, letting it lay the literal groundwork for our colour scheme and tone. Inspired by its earthy, interwoven pattern (which mimics a landscape of pebbles, sand, and clay), we chose to highlight its bluish-greys, pastel peaches, and tawny taupes by repurposing the same colours throughout the bedroom.
The resulting look? Soft, sweet, and refreshing.
You can spot the greys among the cooler tones of the decorative pillows and catch the peachy hues reflected in the warm Alaia Bedspread ($196.00) at the foot of the bed. Alongside the Alaia, you'll also see a few taupes making an appearance within the textured Esther Super Throw ($258.00), which serves as an appetiser to the room's main event: the linen-blend Leigh Bed (from $2,032), upholstered in a light, sandy beige.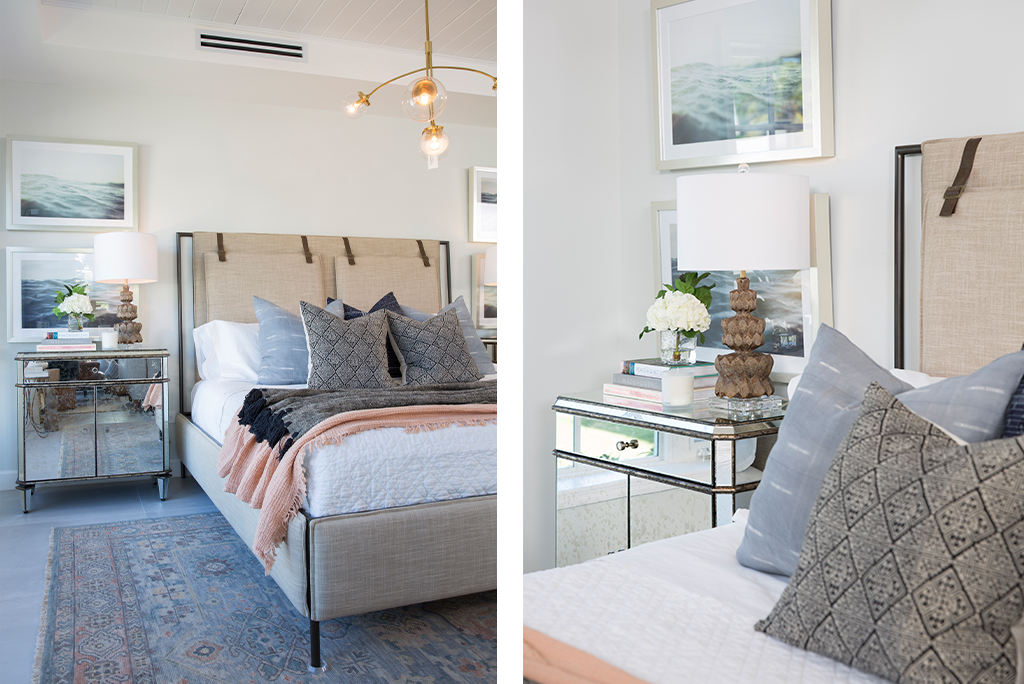 Next: We opened things up a little.
Just because we dug the down-to-earth themes of the Cappadocia doesn't mean we wanted the bed-scape to feel too grounded or weighted down.
Nope. We wanted this vignette to have a breezy quality to it; rooted in natural colours but airy and expansive as well, for maximum mindful 'chill'.
We knew we'd need a little designer wizardry to achieve this desired effect, so we called on two of the oldest tricks in the spatial relations playbook: light and mirrors. The Antiqued Mirror Chest ($2,351.00) beside the bed––in addition to being incredibly gorgeous in a 'diamond-in-the-rough' sort of way––provides the perfect amount of illusory space thanks to its reflective surface. And, for good measure, we added lighting sources both above (with the Prescott Medium Mobile Chandelier, $1,089) and at either side of the bed (with some Ravi Table Lamps, $387.50 each) to dial up the brightness factor from top to bottom. Added bonus? The Ravi lamps give off notes of both earth and air, as they feature a crisp white linen shade atop a chestnut-coloured resin base.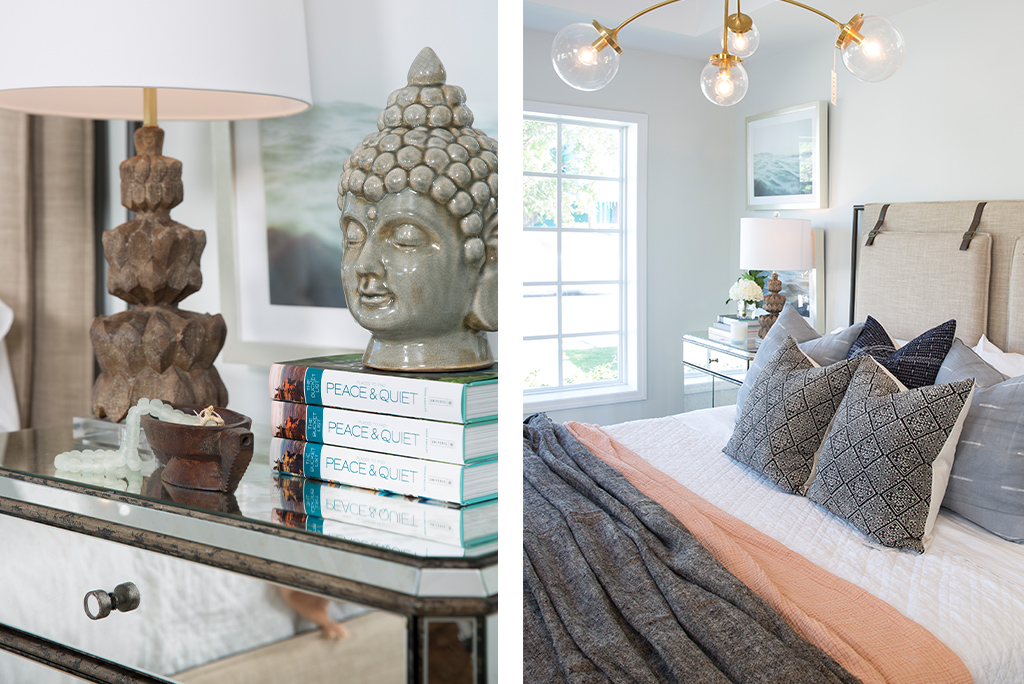 Last: We brought the sea indoors.  
Once we checked 'air' and 'earth' off our list, we had only a few of nature's fundamentals remaining. 'Fire' wasn't right for this particular bedroom (we were going for relaxing over vibrant), so that left us with one final ingredient to include: water.
Instead of splashing the bedroom with the occasional dash of coastal blue to evoke a sense of calming waters, we decided to let this element speak for itself. With a few strategically placed photographic prints (Good Morning Waves, $371.00 each), we were able to inject some revitalising watery energy into the bed-scape without drowning the room in typical oceanic hues. In fact, we think these soothing wave photos strike exactly the right chord: detailed enough to conjure images of the sea, but smooth and buoyant enough to help reinforce the lighter, more ethereal concept we wanted to convey.
Dreaming of your very own vignette? Many of the items featured in our blog posts––and hundreds more!––can be viewed and purchased at our online store. (You can also swing by our Grand Cayman storefront to see this latest vignette for yourself… and maybe pick up a few pointers for your next interior design project.)
Stop by or get in touch at info@huiscayman.com if you have any questions about building the ideal living-scape for your home.
Oh, and stay tuned for our next vignette!
With love,
The HÜIS Team