Design Project: Easy Living In South Sound
August 19, 2020
Sectional   •  Coffee Table    •  Armchair   •  Rug
Getting your home layout just right? It can take a few tries.
Our clients experienced exactly this problem when trying to finalise a look for their breezy South Sound townhouse.  That's where we came in!
Take a peek inside our clients' three-bedroom home and learn more about the products and techniques that came together to create this light and airy "easy living" Grand Cayman aesthetic.
(Note: Featured items available via our online store have clickable links, see us in store for all others. Price listings are also provided.)
PROPORTIONAL PERFECTION
This townhome's living area involved a unique footprint that proved tricky to furnish as it featured some a-typical windows and one or two unexpected corners—but HÜIS designers quickly found a solution that would help anchor the space. Enter the five-seater Harris sectional (available through our storefront for CI$4,115.00). The Harris had just the right proportions and left the room feeling cosy but not too crowded.
We chose to balance out the sofa with the elm-and-iron-built Molly coffee table (CI$1,125.00), whose mixed-media silhouette reads as substantial but not overwhelming. And for a finishing touch, we added the stylishly faded Loren area rug (CI$830.00 for 8'4″ x 11'6″) to help draw the eye toward the living room's super comfortable seating arrangement.

COASTALLY-INSPIRED ADDITIONS
In consulting with our clients, we knew the relaxed island life that characterises South Sound would have to play a big part in the townhouse design. To cultivate a feeling of seaside calm, we carefully selected a few statement accents inspired by the flora and fauna of the tropics. The white bubble shell perched on the coffee table (CI$16.00) and the organically chic Neta cane lounge chair (CI$1,201.00) shown opposite the sectional are just two of our favourites.
SAVOURING THE SMALL
When our designers reached the entryway, they encountered a new challenge: a smaller space that would need to convey a lot with very little. Since the entryway was the literal gateway to the rest of the home, we couldn't afford to skimp on style. However, the square footage was minimal, and the options were somewhat limited.
Difficult? Maybe. Impossible? Never.
With some ingenuity and a dash of sleight of hand, our team was able to maximise the entryway space by introducing a five-door Diamond Chest (CI$2,092.00), whose grained wood creates an optical illusion that makes the piece appear smaller and much more modest. Thanks to these innovative optics, the chest could occupy the space without dominating the room. An added bonus? The piece provided some extra storage for all our client's necessary clutter.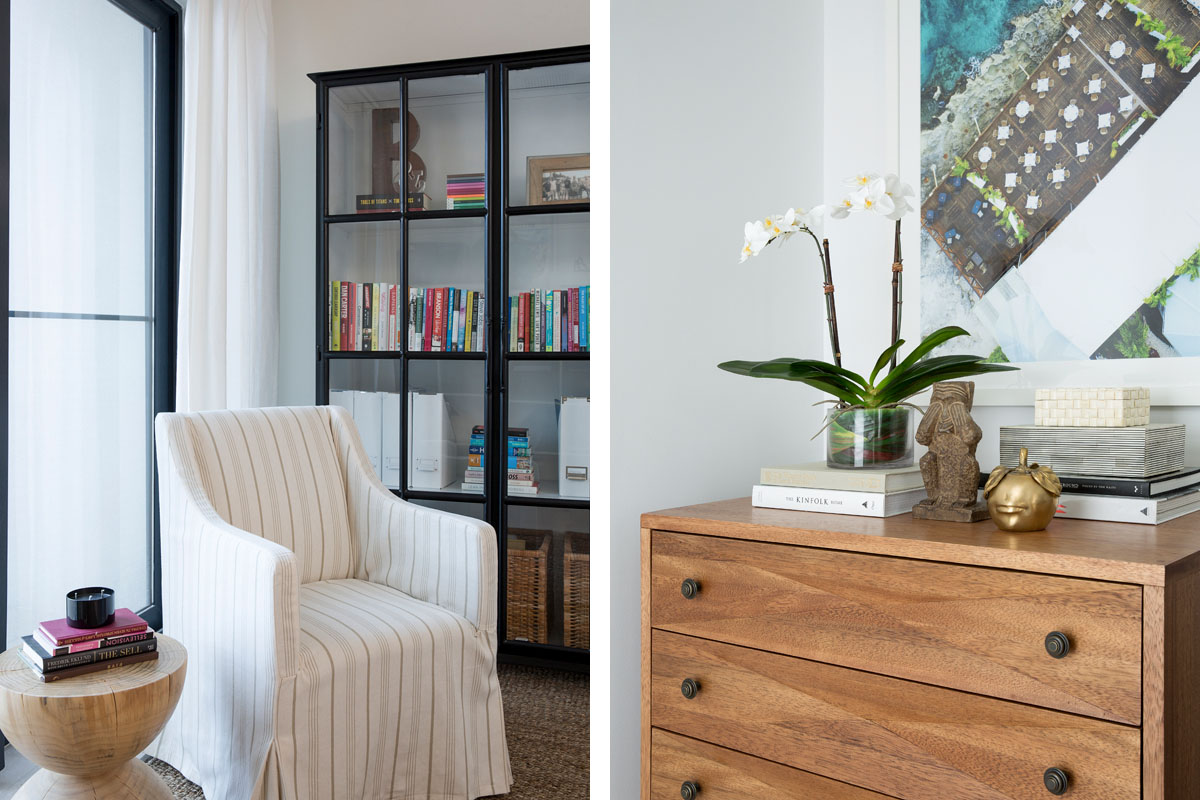 Chair   •  Side Table   •  Bookcase   •  Rug (in store)  •  Chest
QUALITY OVER QUANTITY
For confined interiors that have to pack a lot of punch in a small area, two to four eye-catching accessories are always better than having several curiosity items strewn about the space. For our client's minimalist foyer, our designers opted for an exclusive lineup of characterful accents such as the graceful artificial phalaenopsis orchid (CI$233.00, in store), two simple pearlised bone boxes (CI$101.00 and CI$141.00, in store), and the Bluestone "See No Evil" monkey conversation piece (CI$79.00, in store). These objects were able to leave a distinct impression without saturating the room or confusing the overall aesthetic.
Sometimes perfecting the "easy" living look can be anything but. Yet thanks to the superior skills of our expert team, this South Sound retreat was transformed into the ideal casual getaway for a discerning client with excellent taste.
Why not less us do something similar for you?
You can learn more about this project and find out about our fixed-fee consulting services by contacting info@huiscayman.com.