Design Project: Coastal Contemporary
September 15, 2020
Just because you live on the beach doesn't mean your home has to conform to some clichéd #beachlife profile. For this seaside getaway, we designed a living-scape that transforms the essence of "modern coastal" into a laid-back space with no anchor-themed accessories or kitschy rope decorations in sight  And guess what? It's super easy to recreate—with or without the floor-to-ceiling ocean views.
Here's a step-by-step guide to building your own coastal contemporary aesthetic without those tired beachy tropes that clog up everyone's Instagram.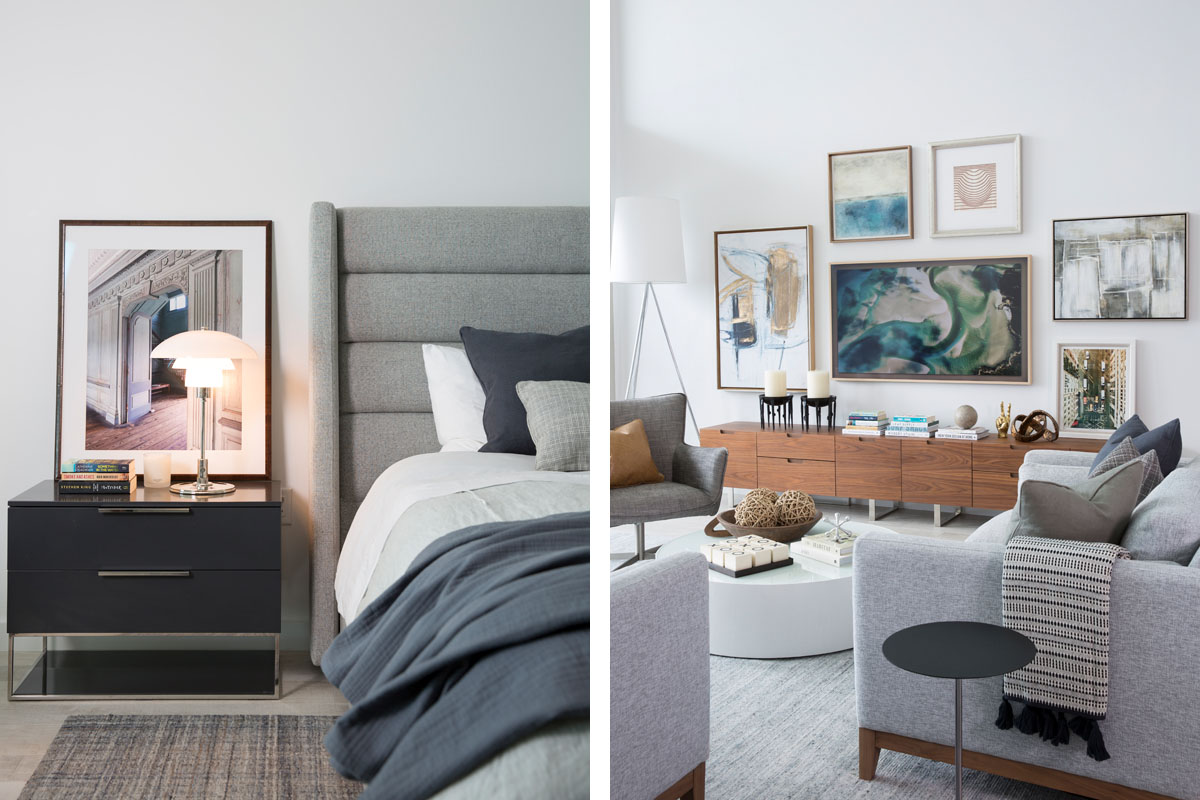 Lamp   •  Nightstand   •  Bed   •  Rug  •  Sofa   •  Armchair   •  Coffee Table   •  Media Unit   •  Rug
STEP 1: EMBRACE THE NEUTRAL
Coastal chic is all about calling the sea to mind. Your goal should be to let the ocean inspire you rather than drown out your design. Think more comfort, less drama.
Try starting with a neutral base that's relaxed but rich in texture and favours subtle over sensational. In our contemporary living room, for example, the muted blue hues of the Kelsey sectional (CI$2,456.00) and the Vaughn "Sky" area rug (from CI$1,095.00) are reminiscent of the nearby sea and surf, but neither piece overpowers the aesthetic or detracts from the cosy serenity of the layout. Both feature characterful fabrics that appeal to the senses (much like the outdoor sun and sand), but nothing about them is flamboyant or oppressive. Ditto for the bedroom's Emmit bed (from CI$2,677.00), whose elegant, stone-washed colour and clean lines provide a lovely-yet-modest foundation for the light and airy sleep-scape.
STEP 2: MIX IN OFF-THEME COMPLEMENTS
When it comes to accents, don't worry about staying on brand. Again, coastal is a feeling, not a declaration. This living room's accent swivel chair (CI$1,076.00) and simple circular coffee table (CI$1,659.00) aren't coastal per se, but their soft shapes and smooth surfaces are perfect complements if you're hoping to create a peaceful vibe. It's 100% okay to incorporate pieces that have nothing to do with the seaside, so long as they help maintain a calm and balanced look.
Similarly, the Whitman desk lamp (CI$753.00) and Bowery nightstand (CI$1,560.00) seen in the bedroom aren't particularly beachy, but their minimalist silhouettes contribute nicely to the fresh, unadorned nature of the design.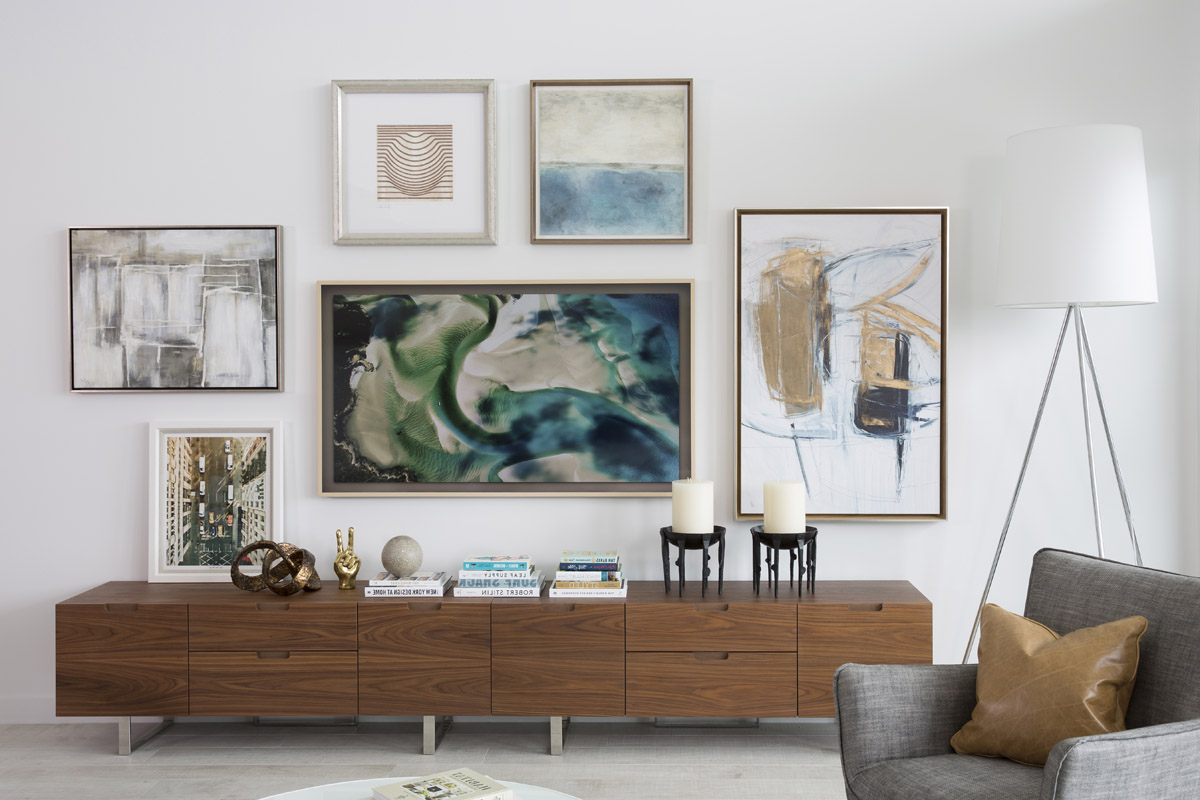 (art, clockwise from bottom left)  Soho   •  Rugged   •  Optical Drawings   •  Muddy Lane   •  Unburdened I
STEP 3: PAY CLOSE ATTENTION TO SIZE AND SHAPE
The rule about comfort over drama? It applies to the size and shape of your furniture, too. Aim for statement pieces that evoke the sea but still leave your rooms feeling breezy and open. The Eldridge media cabinet with wooden finish (CI$1,216.00) included in this living space adheres beautifully to this idea; it's slim, streamlined shape has a small footprint that won't disturb the flow of the interior, and its organic, grainy look helps recall certain natural elements of coastal life (think driftwood or a shady seaside grove).
STEP 4: MAKE YOUR WALL YOUR CANVAS
A gallery wall of favourite artwork adds a ton of character to any room and goes a long way towards making your house feel like a home. Just be sure to keep your tones cohesive by selecting pictures and prints that have a common colour palette. If you're hoping to capture a coastal look similar to what we've created here, we suggest opting for cooler, more neutral shades that conjure the seaside without going overboard. (Fun fact: The stunning painting at the heart of this wall-scape is actually a state-of-the-art framed TV! Contact us for more info on using tech to your advantage when designing your interiors.)
Like what you see? All the pieces mentioned above, along with our various collections of unique and affordable artwork, are available at huiscayman.com for purchase. There's also lots more for you to explore on the site or at our Grand Cayman storefront. Stop by anytime or get in touch at info@huiscayman.com to see how we can help with your next design project.
Happy shopping!
With love,
The HÜIS Team