Why Mixing is Better than Matching
March 31, 2023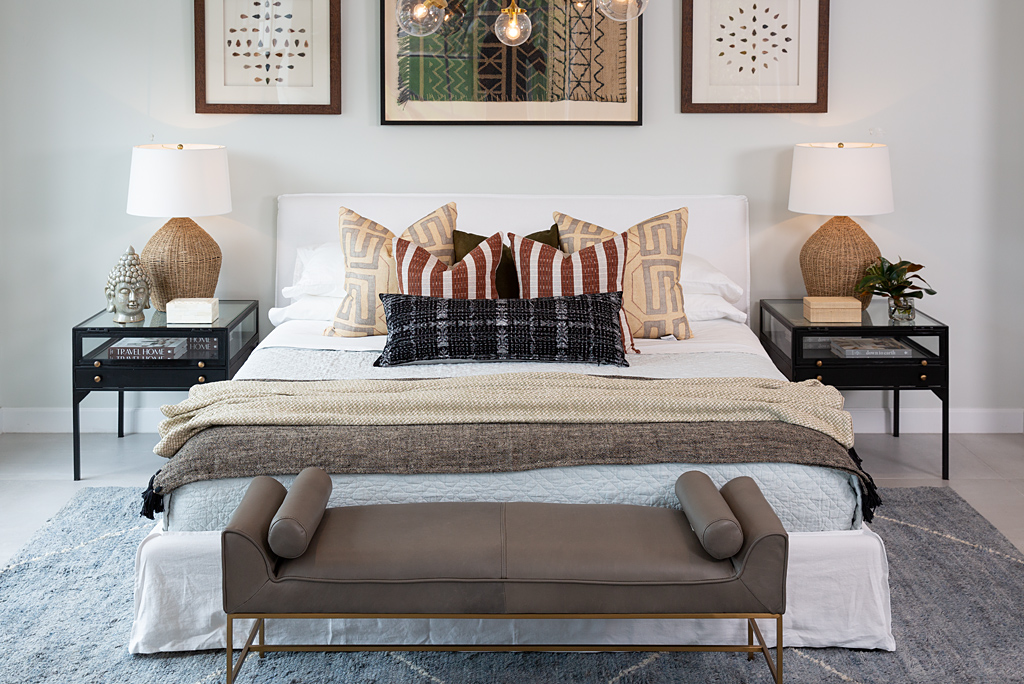 Rug   •  Bed   •  Nightstands   •  Lamps   •  Art   •  Pendant
Check out this gorgeous spread! And before you ask – no, it's not a guest room in some fancy hotel – it's right here in our HÜIS showroom (a magical place where time stands still and where lovers of interiors congregate to celebrate the latest throw pillows and coffee table books)
One thing you need to know about us is that we LOVE mixing aesthetics: taking a little from one style, mixing it in with elements from another and throwing in a 3rd one (or more) just to keep things interesting. It also helps to make a home look more loved and lived in rather than a style-by-numbers that you'd get in a showroom (the horror). 
So let me show you around…
I am OBSESSED with this rug – it's got that beautiful texture and pattern given its subtle ethnic vibe, but it's the color that brings it home (or HÜIS as we say around these parts…). It's just muted enough that it can be incorporated into any style you're going for: beach chic, modern, industrial… – but packs just the right intensity of tone that it makes for a brilliant transitional piece.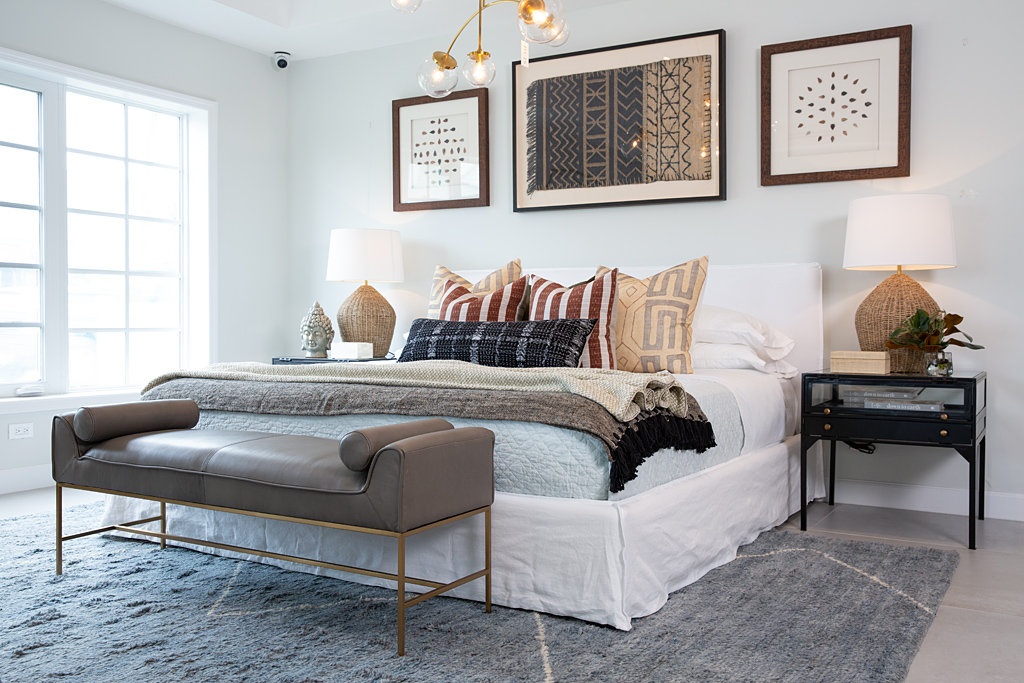 Rug   •  Bed   •  Nightstands   •  Lamps   •  Art   •  Pendant
Next up, the unsung hero of the bed world: SLIPCOVERS. They have an instant calming effect on the room (I just want to curl up and take a nap when I see this gorgeousness… ) – and when layered in with the other rich colors of this space, it really does help to create balance and contrast. But what really makes this slipcover a mark of sheer human genius? Simply whip it off and give it a wash when the pet hair from your fur babies gets a little much!
Speaking of contrast, you have our blessing to play this up in your space. Here we've layered in the pale blue bed cover here not only to echo what we've done with that knockout rug, but to inject a subtle contrast with the bed.  By layering in softer colors, we're giving off an overall softer feeling rather than jarring the eye. And because we have a Masters in Texture (it's a real thing – no need to look it up…) can we just declare our undying love for that quilted diamond pattern?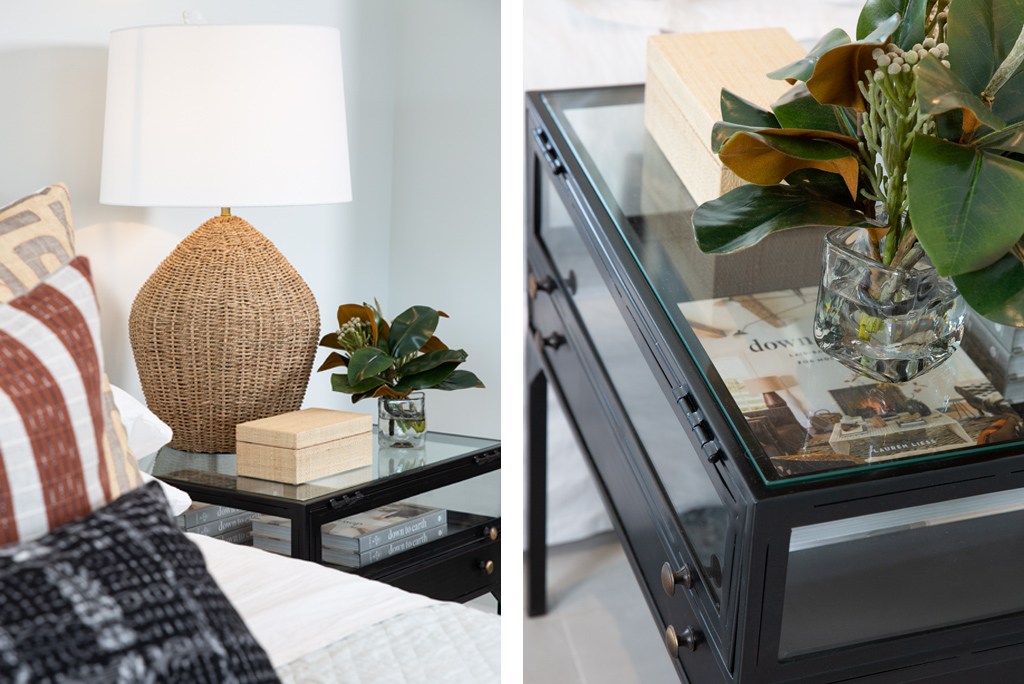 Nightstands   •  Lamps
Another way we played up the contrast in this space is with furniture. Those nightstands – otherwise known as the bedside-sentinels-sent-directly-from-heaven… or for the more pragmatic stylists among us, "Shadow Box End Table" – are a fabulous way of incorporating contrast through juxtaposing the industrial, raw elements of the tables with the muted tones and soft curves of the bed and accessories. It's an unexpected marriage of aesthetics, but it stops the room looking too sweet or one dimensional.
Those woven lamps are such a triumph in this space because, texture…. And as lifelong evangelists of the weave, we just had to incorporate a set of the Georgian Table Lamps – fan favourites here at HÜIS basecamp.  If you're going for an earthy, beachy vibe then they fit the bill as a location-specific element that brings the outdoors indoors (just with substantially less sand, sunburn and unfortunate tan lines).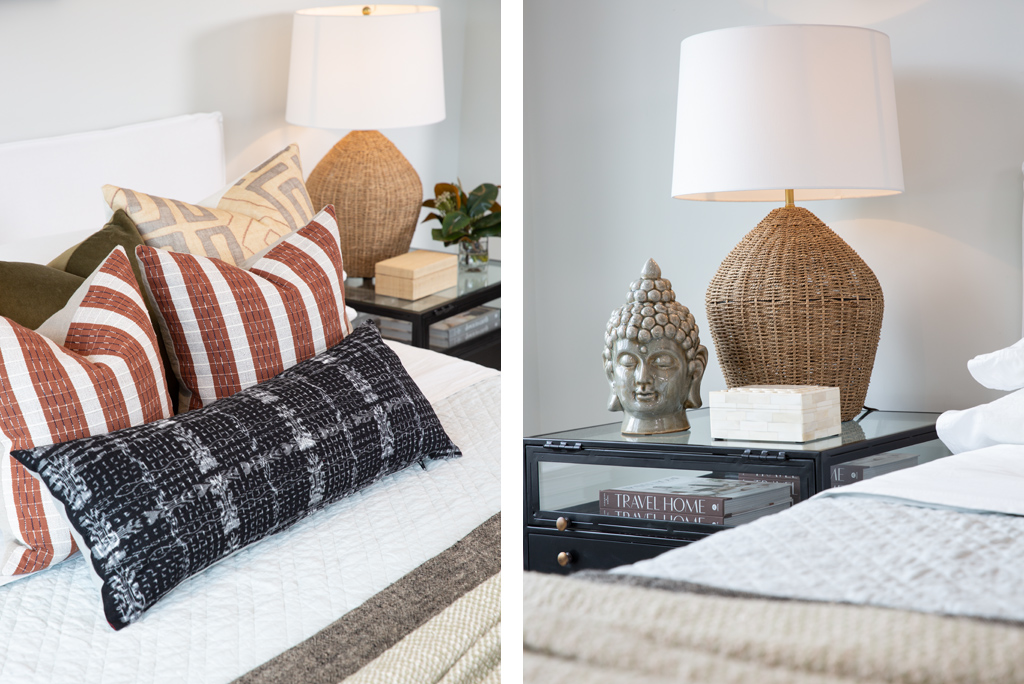 Nightstands   •  Lamps  •  Throw Pillows
We all know the adage "Less is More". Except for in the case of throw pillows…. With pillows, more is more!  We're always looking to mix and match styles and colors, and in this case we've taken inspiration from the ethnic prints above the bed. It's incredible how just changing up the pillow layout, and adding in or swapping out styles can have such a huge impact on the look and feel of a room. Want to take your aesthetic in a completely different direction? Start with the pillows! Come see us in store, we have SO many options.
With love,
The HÜIS Team
Shop the look