Country Living with An Urban Flair
January 8, 2021
Whether serving up drool-worthy design inspo on Insta, styling spec homes from top to bottom, or guiding homeowners toward their ideal living space on Netflix's 'Dream Home Makeover', the folks at Studio McGee are experts at making an impression.
So, when we came across their sumptuous new 'Beckham Project' (a thrilling example of how to stage a new-home build for potential buyers), we weren't entirely surprised when it kinda sorta took our breath away.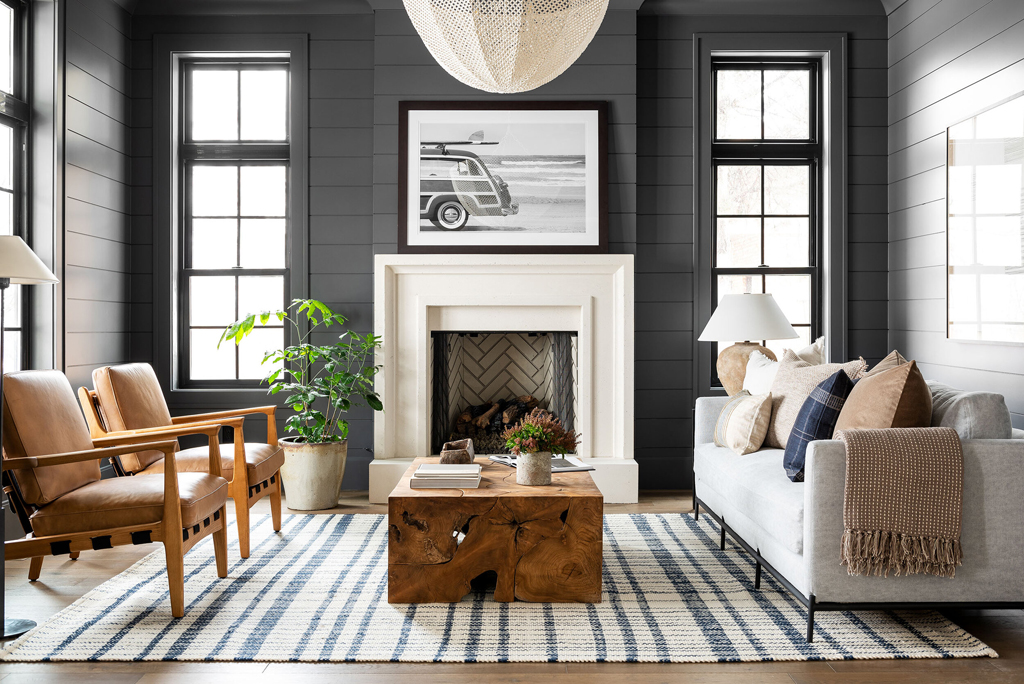 Chair   •  Coffee Table   •  Art   •  Sofa   •  Rug
Naturally, we became instantly obsessed with the look––most especially with the 'country-living-with-an urban-flare' drama found inside the home's formal living room. Not to be confused with the open-concept 'great room' that blends the kitchen and family room together, the Beckham's formal living room is basically the project's handshake: the one space tasked with setting the tone for the entire house the moment you step through the door.
And, boy, does it not disappoint.
Somehow managing to be both inviting and imposing, the formal living room balances deep, cool colours with warmer hues and natural textures, all of which have left an indelible mark on our hearts. We highly recommend letting this aesthetic inform your next living-scape, and we've provided a few pointers below on how to adopt a formal Beckham look of your very own.
Here goes…
START WITH THE CENTRE, THEN WORK YOUR WAY OUT:
Even studio founder and creative leader Shea McGee admits this beautifully darkened room needed a few brightly-coloured anchors to keep it from drowning the eye in deeper tones. For her, two key elements in maintaining this yin-yang counterpoint were the expansive lighting fixture and the open-patterned area rug. Taken together, they function as warm, welcoming centrepieces that even out the vividly painted walls.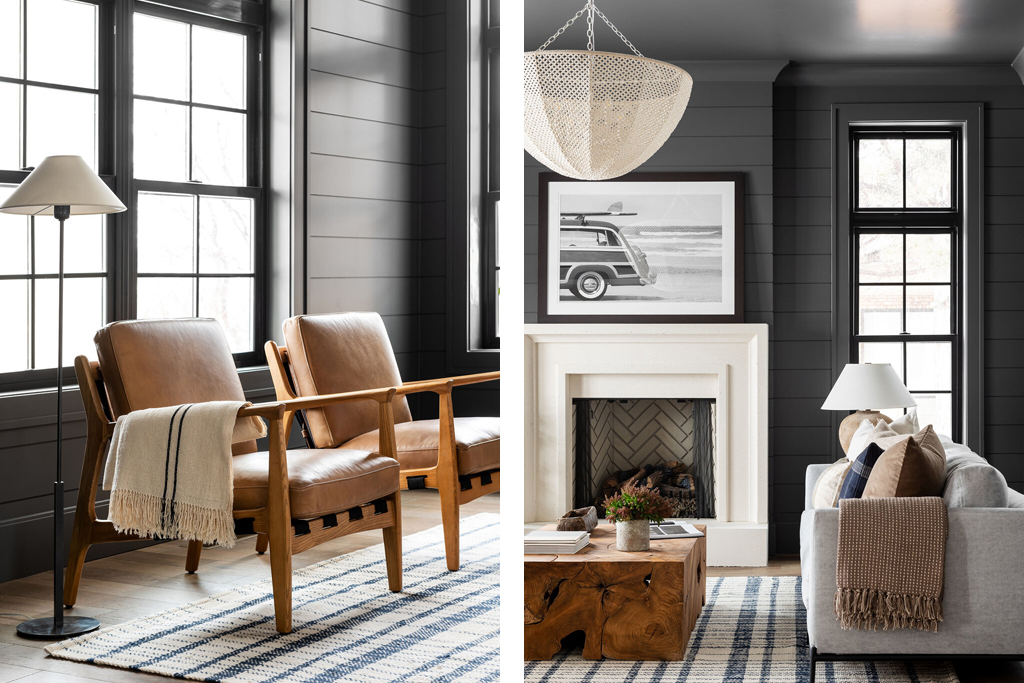 Floor Lamp   •  Chair   •  Chandelier   •  Art   •  Coffee Table   •  Sofa   •  Rug
You can recapture this balanced feel by revolving your look around a large woven light (like the beaded Quinn Chandelier, $1,906) and a rug that makes the most of liminal space, such as the Malta Blue Woven Wool area rug ($1,284 for 9′ x 12′). You can even round out the chiaroscuro effect with an arresting work of art in black and white (pictured: 'Beach Car 2', $745).
VARY YOUR SEATING:
The trick with a statement living room? It has to feel as good as it looks. So, while your Beckham Project aesthetic will have to strike the right visual chord, it will also have to take the comfort factor into account. You can satisfy both sides of the fashion-function coin by opting for plush, slightly-overstuffed seating in varying textures, so eyes will never get bored and visitors won't have to worry about getting stiff. Studio McGee hit just the right note with a set of leather-bound armchairs in a toasty copper finish (example: Silas Chair in Patina Copper, $1,793 each) and a luxuriously wide sofa (example: Elton Sofa in Derby Silver, $1,793) in a lighter-hued fabric to help maintain what Shea McGee calls the "fresh" nature of the room.
LET MOTHER EARTH INSPIRE YOUR FINISHING TOUCHES:
As you've probably guessed, your friends at HÜIS have a major soft spot for items influenced by sand, stone, and sea. This is a big part of what drew us to the Beckham living room's accent pieces, all of which seem to have taken a cue from natural beachscapes.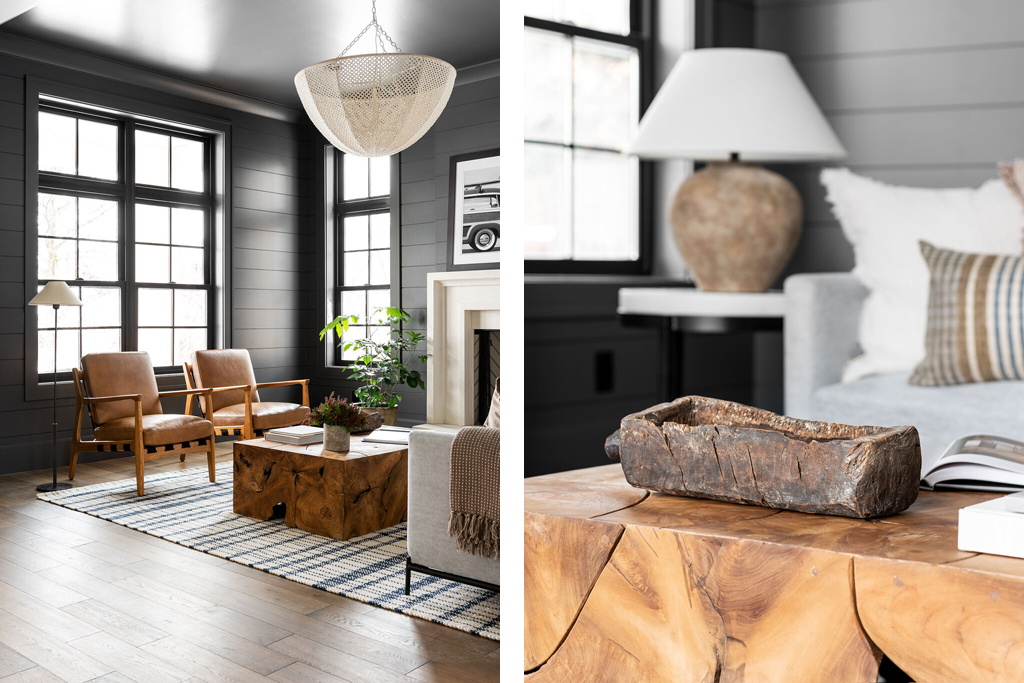 Floor Lamp   •  Chair   •  Coffee Table   •  Chandelier   •  Rug   •  Coffee Table   •  Table Lamp
Snag your own earth-inspired look with items like the Zen table lamp––whose stonewashed base and creamy fabric shade give off an organic ombré-ed effect when lit––or our magnificent Teak Slice coffee table (CI$1,243), whose characterful crevices make the piece appear like a block of gloriously polished driftwood.
Interested in going all in on a Beckham-style living room for your home? Get in touch with our interior designers at info@huiscayman.com for advice on the products mentioned above or for thoughts on how to develop a similar style with a personal twist. Or come and see some of these pieces for yourself at our George Town storefront!
Happy shopping!
With love,
The HÜIS Team