Coastal Meets Modern
Style Guides
13/05/2019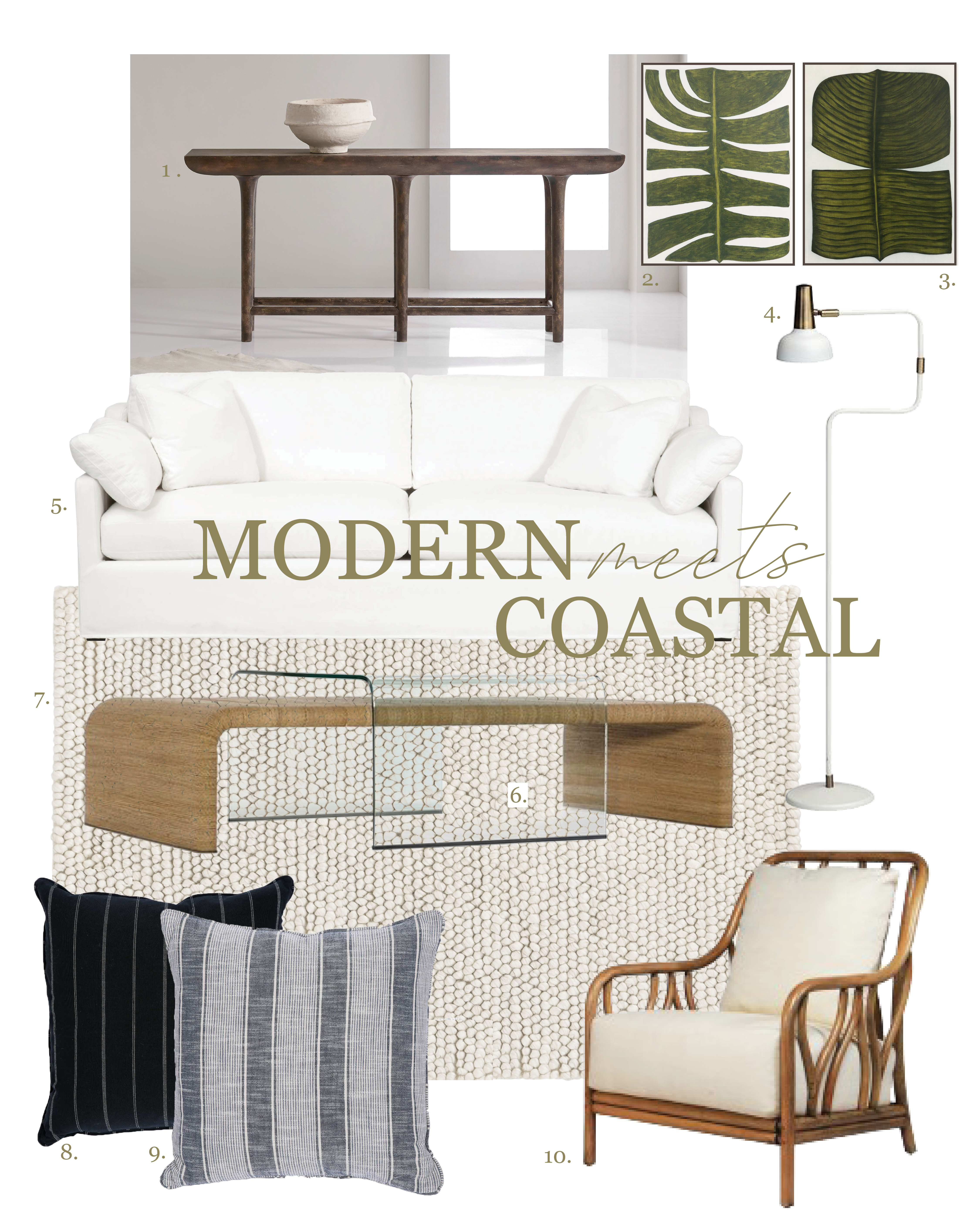 1. Melange Marina Console
2. Musa Sapientum by Marianne Hendriks
3. Ficus Elastica by Marianne Hendriks
4. Emmett Floor Lamp
5. Lena 95″ Slope Arm Slipcover Sofa
6. Amani Rope and Glass Cocktail Table
7. Niels Woven Wool/Viscose Rug
8. Charter Coal Throw Pillow
9. Capi Cadet Throw Pillow
10. Wishbone Lounge Chair
Coastal meets Modern: How to create a great coastal look
Creating a coastal look doesn't have to be clichéd. The essence of a stunning coastal look is creating a space which feels relaxed and is rich in various textures. Here's our guide to creating a beautiful coastal design for your living room.
Step 1:  Neutral tones offer a relaxed look
Firstly, choose a sofa with a relaxed look. The way to do this is to use a slip covered sofas – they're easy to wash, especially if you choose white! Our Lena 95″ slope arm slipcover sofa is the perfect example of this. Once you have a neutral base, you can start layering in the textures.
Step 2: Introduce textures
Next introduce texture, through pieces like our wool pebbled rug and Amani Rope and Glass Cocktail table. Our coastal feel Amani Rope & Glass table is such a good example of combining modern and coastal elements. Its sleek glass top adds an element of style; plus it's also super durable so no need for coasters!
Step 3: Make the room relaxed
The console and floor lamp aren't coastal, but have soft forms which work in with the relaxed vibe. Our Wishbone Lounge Chair with a bit of rattan is the perfect contemporary addition. Think comfort, cosiness, and soft textures to give the room a relaxed feel.
Step 4: Introduce colours
You don't have to use the typical coastal colours of navy and white.. Our hmong print pillows introduce an ethnic element whilst also complimenting the coastal feel. You can also add tropical prints to add a beach feel to your coastal look, but keep any bright colours to a minimum.
Shop The Look: Eclectic Living Room
Shop The Look
13/02/2019
1. Bentley Table Lamp
2. Liva Wall Decor Set
3. Faded Blue Lumbar Set
4. Amani End Table 
5. Haven 110″ RF Sectional
6. Braided Fringe Pouf
7. Kali Woven Jute Rug
8. Shadow Box Coffee Table
9. Hanity Table Lamp
10. Luna Planter
11. Bolah Chair
Shop The Look: Eclectic Living Room
Getting your living room looking both timeless and stylish is simple to do – think clean lines and neutral colours with a stylish accent or a modern piece of furniture. The Eclectic living room look consists of soft tones with earthy woods, textures and metals,  perfect for any home. We've gathered some of our favourite pieces – all available to shop online!
Step 1: Choose clean lines
Pick a sofa with simple clean lines so you have the freedom to add texture and pattern with your throw pillows. A neutral sofa works great for flexibility; giving you the chance to experiment with different coloured throws and cushions at different times of the year.
Step 2: Add interest with patterns
This Dash & Albert Jute & Polyester blend rug puts a modern twist on traditional kilim style patterning. Add interest to a plain floor with this standout piece, which looks perfect against a light-coloured sofa.
Step 3: Use timeless pieces as accents
Opt for timeless pieces for accent furniture -, the top half of thise elegant coffee table acts as a shadow box where you can showcase a collection or use as a terrarium. Pieces like this won't age,  so it's a solid investment for years to come.
Step 4: Pick mixed texture accessories
Go all out with accessories!. MixBy mixing brass finishes, ethnic patterning and bohemian fringing to create a truly eclectic look. By using different textures, fabrics and patterns, you'll create a beautifully curated style that is unique to your home.  the space a beautifully curated collection of styles.
Team LUID Christmas Wishlist
Shop The Look
10/12/2018
1. Sommerard Medium Triple Arm Chandelier
2. Sahara Area Rug 
3. Magnolia Dining Table
4. Ace Chair
5. Bradburn Cocktail Table
Outdoor Living
Shop What's New
21/11/2018
Our incredible year-round tropical climate means outdoor furniture is not an option it's a mandatory. Whether you have large backyard or a small balcony you want to be making the most of it, with that in mind check out Huis's latest installment of outdoor living furniture.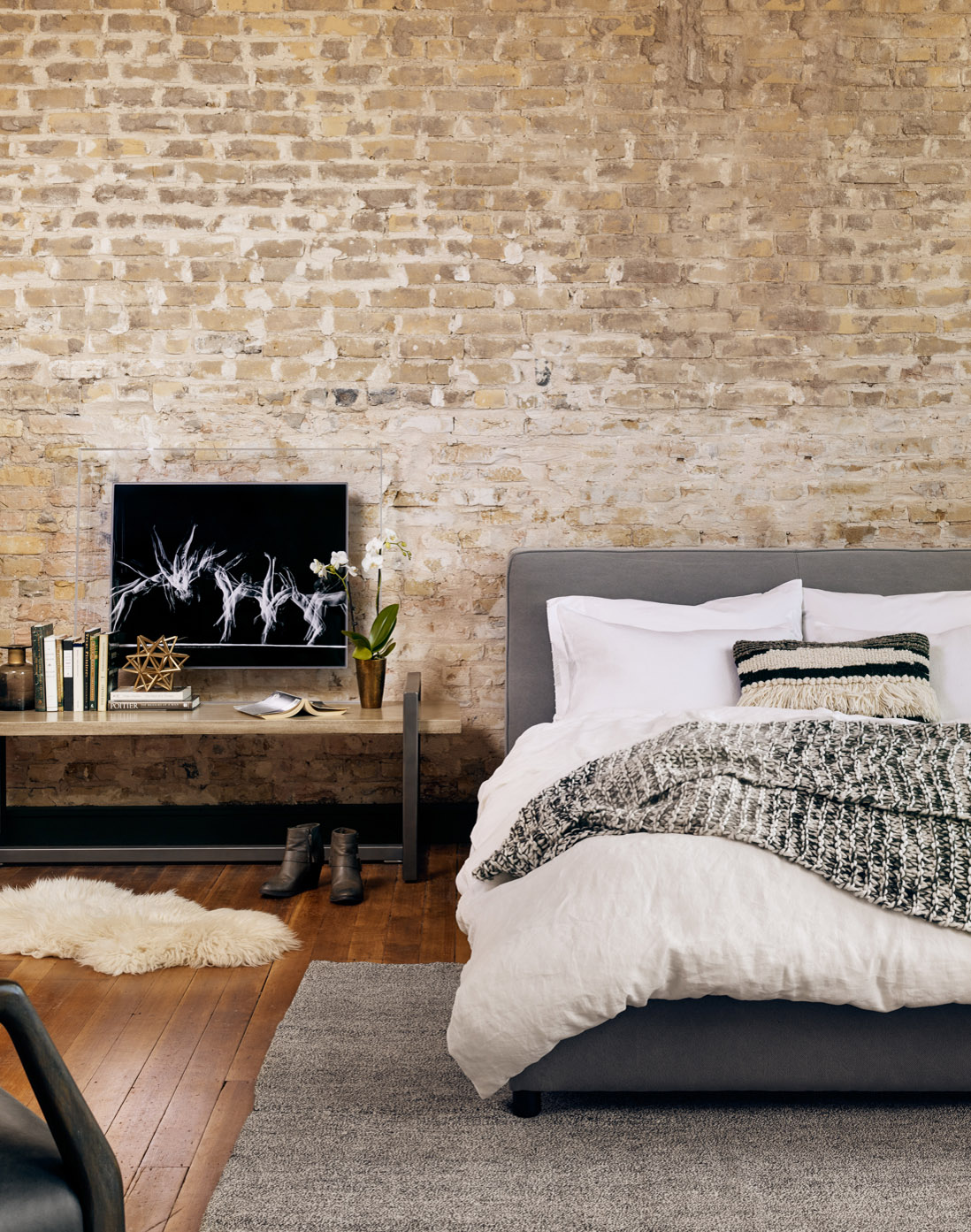 Shop The Look: Contemporary Bedroom
Shop The Look
18/07/2018
SHOP THE LOOK: CONTEMPORARY BEDROOM
Contemporary design is so often misunderstood; relegated to cold, hard and impersonal spaces. But with the right elements – like luxurious marble, soft textures, and warm wood furnishings – modern design can, in fact, be ultra-warm and inviting. We've gathered some of our favorite modern furniture pieces and accessories to create a bright and contemporary bedroom – all available to shop directly online.
STEP 1: START WITH THE MODERN COMFORTS
This Loloi Juneau Area Rug (US$42.00 – $1,807.00) is even more gorgeous in real life. It's super soft to the touch, and the variation of the cut and loop piles make an interesting but subtle statement. Plus, to keep yours securely in place, we include a complimentary rug pad with every rug order.
STEP 2: REMEMBER MIXED & MATCHED = PERFECT
Here we've repurposed a pair of Hooker Furniture Curata Side Tables (US$639.00 each) as nightstands to create a statement. Their marble tops mimic the movement in the rug, and their warm oak finish offsets the cooler tones of other furniture pieces (yes, it's ok to mix warm and cold finishes!). While they don't have much storage, isn't that the point with contemporary design? In this edit, less really is more!
STEP 3: FIND COMPLEMENTARY PIECES
We'd add Nuevo Living's simple, tall Tivat Table Lamps (US$209.00 each) to really enhance the minimalist look, and balance out the low headboard of Four Hands' Aidan Bed (US$990.00 – $1,140.00). Shop for your mattress online, too – we stock Simmons, one of the leaders in mattress innovation and quality. With prices ranging from US$480.00 – $2,699.00, find the perfect mattress to suit your sleep preferences and your budget.
STEP 4: SOURCE AFFORDABLE ARTWORK
Hang Leftbank's Concrete Series III and Concrete Series IV (US$299.00 each) horizontally over the bed, leaving 8" between the top of the headboard and the bottom of the frame, and 3" in-between the two pieces of art. Not only a mega-bargain for contemporary artwork, the prints' superfine silver floater frames enhance their contemporary nature even further, and their neutral color palette reflects each of the other elements in the room.
STEP 5: MAKE A STATEMENT WITH GREAT GREYS
A chunky metal base and recessed handles on Moe's Home Naples Dresser (US$1,575.00) are about as contemporary as it gets. Plus, these are unique design details that set this dresser apart from other options. If using in a guest or child's bedroom, consider having a glass top made on-island to prolong the life of the piece.
Get this Modern Bedroom for only US$5,250.00 (excluding importation costs).
Happy shopping!
With love from,
The HÜIS Team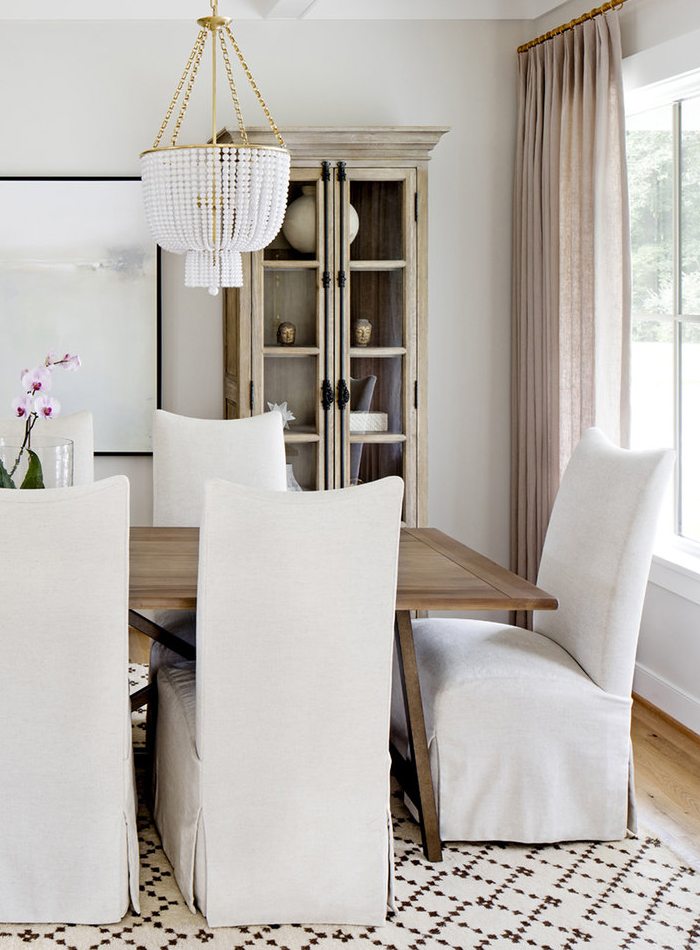 Our Favorite Combos: Dining Room
Style Guides
15/05/2018
The dining room can be a tricky space in a Cayman home. So many of our townhouse and apartment developments are built with open-plan living spaces to maximise sunlight and beautiful views but this also means that the dining table can easily become a dumping ground with little-to-no identity, or alternatively a way-too-formal space reserved for holidays and special occasions.
Your dining room (walls or no walls) can be a perfect space to take a few design risks and really make a statement in your home. And, in our humble opinion, why settle for a matching dining set when you can create your own unique and unexpected combination?
We pulled together some of our favorite mix-and-match pieces, all available to shop online here, to help get your creative juices rolling – plus some useful advice from our design experts at Lydia Uzzell Interior Design to ensure you and your guests are sitting pretty.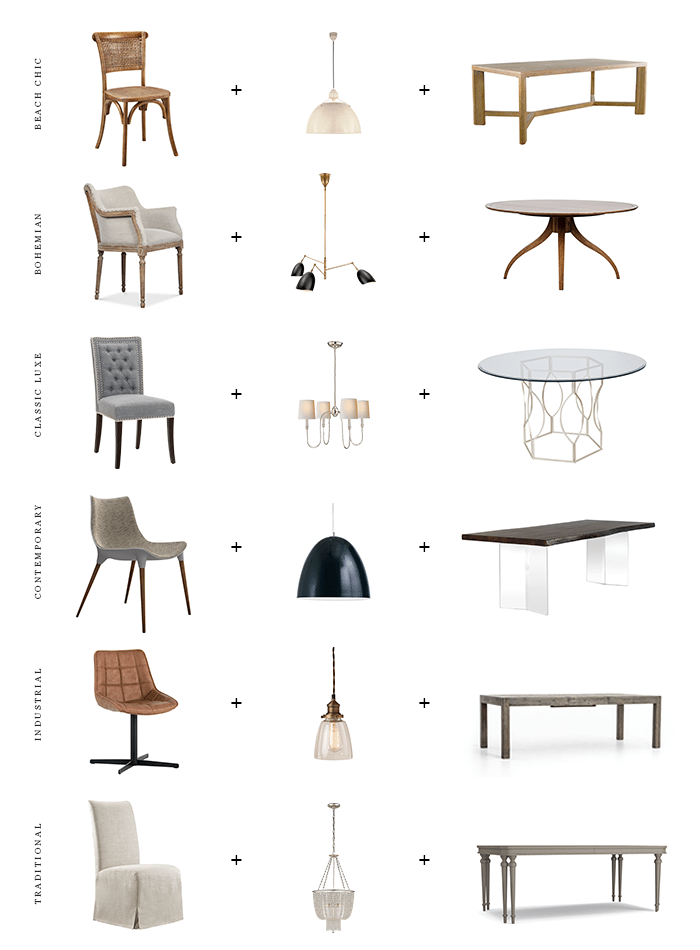 Beach Chic
This is a great example of a rustic set-up paired to perfection. The simple lines of this farmhouse-style weathered oak table (US$1,666.00) balance oh-so-beautifully with natural rattan seats (US$415.00 / set of 2) and an antique inspired hanging pendant (US$420.00 – $588.00, we suggest two) that would look great in an oceanside home.
Bohemian
This Danish-inspired pedestal table (US$2,136.00) makes the perfect accompaniment to bohemian French formal chairs (US$658.00) that have a bit of extra flourish and a curvaceous silhouette. The modern triple-arm chandelier (US$1,470.00) helps bring an edgy elegance into the room; it also comes in white but we love the black and brass finish!
Classic Luxe
When traditional style meets Hollywood retro glamour, it makes for a truly elegant combination. While this edit may not be entirely child-friendly, what with those inevitable spills and sticky little fingers, if you're living à deux or if your kids are older, then this glamorous set-up is sure to bring luxury into your place. Classical elements like the button tufted chair (US$658.00 / set of 2) and shaded chandelier (US$630.00) counterbalance the table's (US$1,283.00) intricate geometric base and glass top that is designed to impress.
Contemporary
Worn wood gives a rough edge to this acrylic base table (US$2,698.00) to create a serious statement. While the hanging pendant (US$330.00, we suggest two) and mid-century chair (US$799.00) are retro in shape, their materials are entirely contemporary: think stainless steel, Brazilian wood and fiberglass. Put this combo in a white room with lots of natural light to really let the floating-effect of the pièce de résistance table take full effect.
Industrial
Just because you're feeling rustic and industrial doesn't mean you can't also be a little fancy, right? Iconic leatherette chairs (US$322.00) lend gravitas to a simple Parsons table (US$1,115.00). Plus, the curved lines of the seats help to soften their worn leather-effect and the table's rough and tough reclaimed wood finishing. Here we'd incorporate a strong, industrial pendant light (US$143.00, we recommend three over a table this size) because it's just so damn cool!
Traditional
If your idea of a perfect meal consists of sipping rosé and snacking on charcuterie boards, then this provincial-style dining room combo might just be your match. The traditional farmhouse-style table (US$1,479.00) and 100% linen chairs (US$478.00) create a classic but comfortable style, with a touch of elegance thanks to a glass beaded chandelier (US$1,365.00, we'd do two of these). Plus, the dry-cleanable, removable slipcovers mean you can wine and dine without having to worry about staining your new purchase!
Happy shopping!
With love from,
The HÜIS Team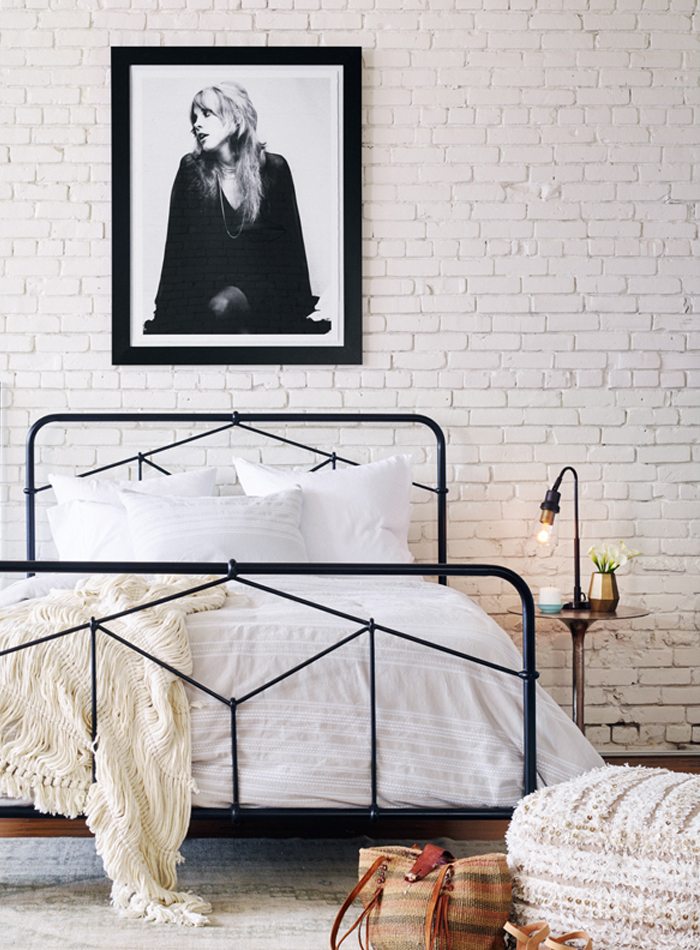 Shop The Look: Bohemian Bedroom
Shop The Look
30/01/2018
Trending for most of the last decade, the bohemian look is still going strong. But as we enter a new year and start to see new design trends emerge, we're noticing boho-style interiors with more polish and precision than some of the highly eclectic spaces of the past (that can come across as overly undone and cluttered).
If you love bohemian style – or you're just looking to add a little color to your sleeping space – our take on a modern boho bedroom incorporates a mix of texture and pattern, while remaining comfy and relaxing.
Step 1: Lay a Patterned Rug
When it comes to rugs, the more pattern the better. Some people can be intimidated by bold patterns though, so we've incorporated the classic, work-with-anything Loren Rug. It's the best 100% polyester rug we've come accross, and is essentially a time-worn vintage rug printed onto a polyester background. We're completely enamored – and at US$716.00 for an 8'4" x 11'6", we're even more enamored with the price!
Step 2: Choose Your Focal Point
This Abby Bed is definitely the focal point of this vignette – it's warm, modern and inviting.  The king size shown here is a fab price (US$1,050.00) for such a nice piece, and one we've used for LUID clients on occasion. Although there are multiple fabric options, we love how calming the oatmeal fabric is in this bedroom edit.
Step 3: Find a Statement Piece
If you want to go all out bohemian-glam, this statement Ascona Chest is what you need. At US$1,994.00 it's an investment piece, but is just too cool for school, and has tons of storage space! It has the perfect amount of worn sophistication to make it interesting, and would work just as well in a dining or living room.
Step 4: Complement and Contrast Styles
You can still integrate other statement pieces, like this Civa Chair (US$440.00). No bohemian room is complete without a touch of rattan and this one really enhances the eclectic feeling – we'd add a sheepskin rug for softness and extra texture.
We're a sucker for nightstands that have open shelving; they're a great way to store books, which can add tons of character to a space. The French Farmhouse Side Table (US$295.00) has a low open shelf which makes for easy access in the evening – and will encourage you to ditch your iPad for a book instead!
Step 5: Sprinkle in Unexpected Accents
We like to add something unexpected into every space we design, and with this bedroom it's a Visual Comfort table lamp. Another investment piece, the Charlton Table Lamp (US$420.00) brings an edgy elegance into the room, and we love the black and brass finish! If budget is a factor, swap it out for the Amsterdam Table Lamp (US$198.00) instead.
Mixing prints and textures is one of our favorite things to do, and it's completely on point for a boho look.  Dress your bed with a couple of Classic Home Marni Pillows (US$90.00 each) and a contrasting Surya Holston Lumbar Pillow (US$72.00).
Get this Bohemian Bedroom for only US$5,438.00 – $5,882.00 (excluding importation costs).
Happy shopping!
With love from,
The HÜIS Team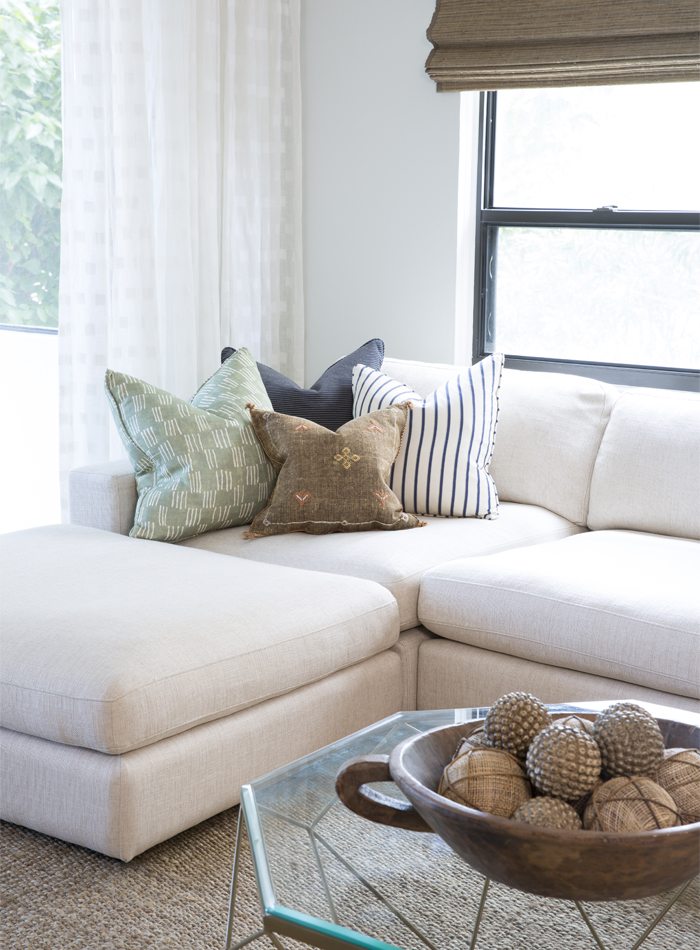 Shop The Look: Industrial Living
Shop The Look
30/01/2018
We're not huge fans of literal interpretations of stylistic preferences, and instead prefer to take a subtler approach to a specific design trend in our clients' homes. By incorporating the same way of thinking into designing your own home, you can achieve a space that is truly personalised (and avoid that overly-themed catalogue look – gasp, horror!).
Some of our favourite industrial-inspired rooms have a simplicity that is balanced by a dash of coziness, wit and character; meaning that textures, sharp angles, mixed metals, and a paired back color palette drive the design. Case in point, this industrial living room is minimal, clutter free, yet totally livable and blends harmoniously with Cayman's tropical backdrop, proving that there are many ways to achieve an industrial look without going overboard on the hard-brass fixtures.
Step 1: Set the Scene with Lighting
Pay attention to the details….. for an industrial-style room, this doesn't mean you need to build a brick wall or install exposed piping to get the look – small accessories will do the trick just fine. Here we've incorporated the strong, industrial looking Percy Desk Lamp (US$195.00) because it's just so damn cool! We'd use a soft-hued bulb to give the room a dimmed warm feel.
Step 2: Make it Comfy
Use furnishings to make an otherwise streamlined design style more comfortable. One of our designers has this exact Bloor Sectional (US$3,010.00) in her home, and it's amazing – deep, super comfy, and big enough to fit the entire family on movie night! Throw in a few pillows to add texture (and coziness) to the neutral fabric. The throw pillows are US$126.00 each and the best quality!  They're made to order, down filled, and covered with the high-end fabrics: Riverton Thunder Throw Pillow, Charter Coal Throw Pillow, and Spike Granite Throw Pillow.
Speaking of texture, we're a little obsessed with checked patterns because of their versatility, they go with everything! This 9'3″ x 13′ Giana Area Rug in Granite (US$1,174.00) provides a great backdrop, and is soft underfoot. We're big fans of rugs like this, they are so durable, and slow to show signs of wear and tear given the small print.
Step 4: Incorporate an Iconic Element
Just because you're feeling rustic and industrial doesn't mean you can't also be a little fancy, right? The Florence Chair (US$679.00) brings in a bit of the unexpected, to help prevent this living room looking too clichéd. It still works with the overall aesthetic with its beaten-up finish yet sophisticated form. We would recommend two chairs if your room has space.
Step 3: Don't Underestimate Functional Furniture
Combining two key aspects of industrial style (sleek metal and buttoned leather) the Oxford Coffee Table (US$1,465) has the perfect amount of worn elegance. It doubles as a footrest and a spot to set your things down – although we'd recommend a tray so your wine doesn't topple over! It's also large enough to provide visual balance against the equally oversized sofa (a smaller table would get lost here).
And just because you're curating a modern room, it doesn't mean that everything needs to be hidden or made to look perfect. While the Element End Table (US$420.00) is very 'modern machine shop' with its antique nickel finish and industrial rivets, we'd soften it by piling a load of books onto its open shelves.
Step 5: Mix and Match Textures
Anything too industrial runs the risk of looking more like a warehouse than a home, and can look too harsh in a tropical locale like Cayman, so it's important to find the right balance of hard and soft finishes. We love the contrast of the rich, warm natural wood of the Danny Media Console (US$1,860.00) against the softer furnishings in the rest of the room. Its reclaimed timber reinforces the industrial aesthetic, and the doors are really unique – they roll back into the unit as opposed to opening outward.
Get this Industrial Living Room for only US$9,307.00 (excluding importation costs).
Happy shopping!
With love from,
The HÜIS Team